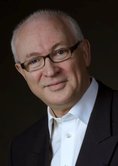 The Torgny Hanson Wind Orchestra is a symphonic wind orchestra whose members are drawn from all the various connections conductor Torgny Hanson has made over the years. Most have some connection with Malmö where Torgny grew up, but by no means all. Many travel in from different directions, ranging from Lycksele in the north to Ystad in the south.
Some members are Torgny's former conducting students, some have been his trumpet pupils and others have taken part in his orchestra courses organised by the Swedish Home Guard. Some have played under his leadership in a number of the bands that evolved from the disbanded military bands, while others have played in the compulsory military service corps of the Swedish Armed Forces, and yet others got to know him within the brass band movement.
Some were fellow students at the Malmö Academy of Music, others were fellow teachers at the Malmö Academy of Music or Royal College of Music, Stockholm, and some are just old friends. Of course there are links between many of the members as well - and in some cases even family ties, with two generations of the same family involved!
Torgny, our conductor
As already mentioned, Torgny Hanson grew up in Malmö. He started his musical career at the age of 11 as a cornettist in the town's Salvation Army Band, which was led by his father. He was educated at the Malmö Academy of Music, studying under the Danish trumpeter Knud Hovaldt. In 1971 he studied trumpet under Bernard Brown at the Guildhall School of Music in London. He later became a teacher himself at the Malmö Academy of Music, and also at the Royal College of Music, Stockholm. For several years he developed the musical training at Dalarö Folk High School.
Torgny Hanson has also been the conductor and artistic director of the Östgöta Symphonic Wind Ensemble and Stockholm Symphonic Wind Orchestra. He further developed his career in the military and became Inspector of Military Music with the rank of lieutenant colonel. In this position he was responsible not only for the professional and conscript bands in the armed forces, but also those in the Home Guard. Throughout this time, he has always remained active in the Salvation Army musical movement and has been for many years, at various times, the conductor of the Stockholm South Citadel Band.
He is often engaged as a guest conductor and guest tutor for both professional and amateur orchestras, and also as an adjudicator for brass band competitions in Sweden and abroad. For large parts of the 1990s he was, for example, the head conductor and artistic director of the National Youth Wind Orchestra of Great Britain, and is now the Conductor in Residence of Imperial Brass, an elite brass band in the USA. And now he has his own orchestra, which reflects major elements of his musical career.
Concertmaster Kjell Olsson
Kjell Olsson was for many years the principal clarinettist in the Malmö Symphony Orchestra and is a well-known musical figure in Malmö even outside the concert house. He has one foot firmly rooted in jazz and rhythm music, and was the lead saxophonist in Leif Uvemark's Big Band for a number of years. He has taught at the municipal music schools in Malmö and Lund, and at the Malmö Academy of Music. As a soloist, he has performed all the major works of the clarinet repertoire as well as the saxophone repertoire, and he has often been involved in chamber music. Kjell has also been engaged as an instructor and guest tutor in many different ensembles, and has led amateur musicians in both big bands and wind bands.
Contact
If you wish to get in touch with us, just drop us a line at info@thwo.se, or give us a ring: +46 735 133156.